The Federal Reserve issued a report on Wednesday that indicates the nation's central bank could play a much more active role in faster payments than many have expected, up to and including providing alternative processing services.
Up to now, the Fed has limited its role to sponsoring working groups that have met over the past two years to work out a framework for both near real-time payments and payment security. The faster-payments group, made up of more than 300 industry executives, issued its final report in July.
But in the coming months that limited role could expand significantly. In the report, which presents some nine new "tactics" the Fed plans to adopt in response to the push for faster payments and more stringent transaction security, the Fed says it will be "exploring and assessing the need, if any, for Federal Reserve engagement as a service provider, beyond providing settlement services, in the faster-payments ecosystem to support industry achievement of the desired outcome."
Asked for clarification, a spokesperson for the Chicago Fed tells Digital Transactions News the central bank is "not necessarily" planning to "build a new settlement system." Rather, it is looking at a possible unmet need to provide a network for faster payments, the spokesperson says, in light of the fact that the industry has set a goal to achieve nationwide, near real-time payments within three years.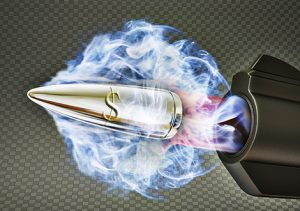 "The Federal Reserve is assessing whether new or enhanced settlement services or infrastructure will be required to meet the needs of a ubiquitous real-time retail payments environment," she says in an e-mail message. "In light of the 2020 goal, beginning in the second half of 2017, the Federal Reserve will assess a range of options and will communicate the results of its assessment as appropriate."
While it's far from certain that the Fed will ultimately set up shop to provide processing services for faster payments, industry observers point out that such a role would simply mirror one the central bank already fulfills for automated clearing house and wire transactions.
And, if the Fed were to step beyond the facilitator role it has played since the national faster-payments movement began in earnest in 2015, that expanded role would likely be limited to serving smaller institutions that may go unserved by market players, experts say.
"Given that the conditions on which the Fed says … it would step in to fill market-failure gaps, I would not be surprised, and many payments industry entities … would likely be pleased, to see the Fed providing clearinghouse capabilities for faster payments," notes George Warfel, general manager for fintech and payments strategy at Haddon Hill Group, a San Francisco-based consultancy, in an email. Warfel, who writes the "Payments 3.0" column for Digital Transactions, also served on the Fed-sponsored Faster Payments Task Force.
Indeed, the Fed could fill a useful role in other important matters. Warfel says. "It is possible that we could also see a Fed entity as a provider of other faster-payments services, such as directories for example," he says.
The Fed's report, entitled "Federal Reserve Next Steps in the Payments Improvement Journey," is mostly taken up with new moves the Fed is adopting to help industry players better understand faster payments in the United States and the security risks they introduce. In one case, for example, the Fed says it plans to "conduct research and seek industry views" to find cases where firms that could provide better security lack sufficient incentives to do so.
"This [Fed] paper outlines the next steps in the process, both in defining what needs to be done to support faster payments, but also pivoting to security issues," says consultant Steve Mott, proprietor of Stamford, Conn.-based BetterBuyDesign, who also served on the task force. "This [faster-payments[ effort has gone a lot further than most people thought in getting a contentious industry to begin talking constructively to itself."