USAA, a pioneer in developing remote deposit capture, said it is "inviting" banks and credit unions to license the patent rights to its RDC technology, for which the financial-services giant holds approximately 50 patents.
Launched in 2006 as a way to enable USAA's customers, many of whom are in the military with limited access to bank branches, to deposit checks, the technology first used scanners anyone could purchase at a consumer electronics store. Today, consumers can use the USAA mobile app to capture an image of a check for deposit.
In a post on its Web site, San Antonio, Texas-based USAA detailed the history of its RDC technology, noting that more banks and credit unions offer similar services.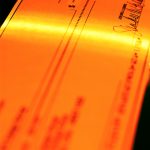 USAA's move is financially motivated.
"Our goal is to make it fair for the service members and families who funded this innovation," said Nate McKinley, USAA vice president and head of corporate development, in the post. "We'll reinvest those license fees in the next best idea for military members and their families."
A USAA spokesman would not say if this is the first time the bank is licensing its RDC patent rights. "Discussions regarding licenses to our patent portfolio including RDC patents have been conducted under confidentiality agreements and we cannot comment," he says in an email to Digital Transactions News.
Other RDC developers also license their technology to banks and credit unions.
Digiliti Money Inc., formerly Cachet Financial Solutions Inc., said more than 2.7 million transactions using its technology were made in 2017's first quarter.
USAA's move to tout the technology may be peculiar, given that so many financial institutions already use the technology, suggests Bob Meara, senior banking analyst at New York City-based Celent LLC.
"Not being a lawyer, I cannot comment on legal matters here, but it does seem that USAA is overtly seeking to extract monetary value out of pre-existing licensing arrangements between FIs and their vendors," Meara tells Digital Transactions News via email. "No one in the ecosystem is going to be keen to concede revenue to a third party and I can't imagine a bank would be eager to spend incrementally after many years have gone by."
Software developer Mitek Systems Inc., which launched its Mobile Deposit RDC product in 2008, says more than 5,400 financial institutions were using that service as of Sept. 30, 2016. Consumers have cumulatively deposited more than $1 trillion through April 5, 2017, San Diego-based Mitek says.
A few years ago, USAA and Mitek wound up in court in a dispute over ownership of the intellectual property behind the technology, but settled the lawsuit in 2014, agreeing to dismiss all claims against the other company.