Checks currently account for almost half of business-to-business payments, but their share will decline to 34% by 2020 as automated clearing house payments surge from 32% of B2B payments today to 45% in three years.
Those are some of the key results from a first-quarter survey by the Credit Research Foundation, a non-profit association of credit and accounts-receivable executives, with support from ACH governing body NACHA—The Electronic Payments Association. The CRF polled 130 U.S. members at companies with $100 million to more than $1 billion in annual revenues and representing a variety of industries.
Checks accounted for 63% of B2B payments in 2014 while the ACH at that time had just a 22% share, according to the CRF and NACHA. With electronic payment forms spreading, check writing has been declining for years with both consumers and businesses, although at a slower rate among the latter.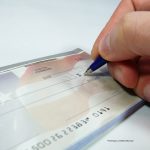 "The big growth in ACH payments anticipated by credit and receivables professionals in just three years is truly significant," Rob Unger, senior director of corporate relations and product management at Herndon, Va.-based NACHA, said in a news release. "It demonstrates the growing importance of ACH payments to support the evolving needs and goals of businesses. Because they are electronic, allow for remittance in a variety of formats to be sent with the payment, are more cost-effective than some other payments options, and can be received quickly, ACH payments are becoming a very attractive option to both accounts-payable and accounts-receivable professionals."
The survey also predicts that cards will capture 12.5% of B2B payments by 2020, up from 11% today and 8% in 2014. Cash and wire transactions will take 8.5% of payments in three years versus 8% in 2017 and 7% in 2014.
Drivers of the changes in payment mix were internal factors, cited by 29% of respondents; technology improvements, 28%; customer push, 23%; cost, 13%, and pushes from card providers or banks, 7%.
Nearly 80% of the respondents named the ACH as their most preferred method of receiving payments, but barriers to ACH payments remain. Forty-five percent of respondents said they have customers incapable of sending ACH payments. And 34% said that while their customers can send ACH payments, they do not properly send remittance with them. Another 21% said their organizations do not have the proper systems or resources to use the ACH effectively.