Consumers have a new option when choosing a fitness device that's capable of making a contactless payment. Fitbit Inc., a San Francisco-based maker of fitness trackers, announced its Ionic smart watch Monday that includes Fitbit Pay, the company's first foray into contactless payments.
Fitbit Pay, which will be available when the Ionic ships to U.S. consumers in October, supports American Express Co., Mastercard Inc., and Visa Inc. branded cards. It also is the fruit of Fitbit's 2016 acquisition of Coin's wearable-payment assets. At the time, Fitbit said the deal accelerated "Fitbit's ability to develop an active NFC payment solution that could be embedded into future Fitbit devices, broadening its smart capabilities." The Ionic device uses near-field communication.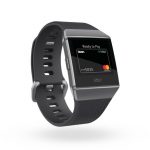 Initially, Fitbit Pay will be available in the United States, and expand into other nations in coming months. Supporting issuers include ANZ, Bank of America, Capital One, HSBC, Royal Bank of Canada, and U.S. Bank, among others.
Users add their credit or debit cards via the Fitbit Pay app. Consumers enter a card number and billing address and verify their identity through a one-time password or through a bank's call center to use the service. The bank verifies enrollment and, upon approval, the consumer's card appears in the Fitbit Pay app. Card data is tokenized within the app.
The card brands view contactless payments, especially in a personal device like a smart watch, as beneficial and rife with potential.
"We know health and wellness is a top priority for our card members, so we are excited to be part of Fitbit's first payment-enabled device," Matt Sueoka, AmEx vice president of digital partnerships, tells Digital Transactions News in an email. "This gives American Express card members a convenient checkout experience while they are on the go."
The card brands also see potential in the growing use of wearables. "Consumers are leading an increasingly connected, digital lifestyle—where the digital and physical blend seamlessly together—changing the way they interact, engage, and transact," says Kiki Del Valle, Mastercard senior vice president for Commerce for Every Device. "This convergence is due in large part to the continued adoption of wearable devices."
She points to the Kleiner Perkins Internet Trends 2017 study as evidence. In 2015, 82 million wearables shipped globally, a total that increased to 102 million in 2016. The Fitbit deal is Mastercard's first entry into the fitness space, Del Valle says.
Similarly, Visa views wearables as moving beyond the novelty stage. "Not having access to quick and easy payments can eliminate countless buying opportunities and we see the opportunity to work with partners, such as Fitbit, to enable payments in fitness devices, phones, watches, and so much more," says Avin Arumugam, Visa senior vice president of the Internet of Things.
"We see the future of payments as cashless," he says. Switching to contactless payments benefits consumers and merchants. According to Visa's Global Market Research on Contactless report from March, 94% of U.S. merchants that enabled contactless payments have seen a positive impact from their customers, he adds.
Yet, consumers have been reluctant to adopt contactless payments on a broad scale.
"Despite limited consumer traction, card brands continue to push full steam ahead on their contactless strategies," Jordan McKee, principal analyst for payments at 451 Research, tells Digital Transactions News in an email. "Contactless is important to the card brands because it protects their position in the value chain. Simply put, contactless maintains the status quo at the point of sale."
Contactless payments can be a bit more for companies like Fitbit, he contends. It is attractive "because it's a high-frequency activity that can increase user engagement with their hardware and ultimately build out the utility of the product," McKee says.
Still, consumers aren't fully sold on this concept. 451 Research's 2017 Wearable Technology Trends Survey shows just 12% of respondents cite "making mobile payments" as a functionality that "impacts their purchase decision." The top function, at 64%, is health/fitness monitoring.