In today's 4G world, connected homes allow you to turn on lights, turn down thermostats, or activate sprinklers, all remotely. Wearables wake you up and tell you how long and how well you slept. Fingerprints, faces, even the rhythm of your heart are replacing passwords. There's a lot happening on the connectivity front. Yet, only about 1% of what can be connected is actually connected.
Imagine the possibilities as that percentage goes up with the Internet of Things (IoT) gaining momentum, driven by fifth-generation mobile networks (5G). These super-fast, super-efficient, high-capacity networks are poised to improve how people connect with machines and how machines connect with other machines. Connected sensors on an assembly line can alert operators working remotely to malfunctions before they happen, while workers who used to run large machinery at a construction site will be able to do so from a distance. And that's just a nano-sized glimpse of the promise IoT holds.
It's around this extended connectivity that the tectonic plates of technology begin to shift and the potential for a 5G economy begins to emerge.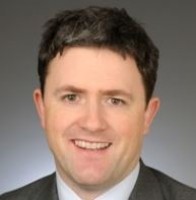 While there is certainty about the impact, there is less confidence when 5G will be a reality. However, one thing's for sure: without 5G and a new generation of wireless, it's tough to see how IoT can realize its full potential. It's no wonder, then, that 5G was a key topic of conversation last year at Mobile World Congress. And it will be again this year as attendees convene in Barcelona this week.
4G has a lot of fuel left in the tank, but assuming 5G lives up to its billing (frankly, I'm pretty bullish that it will), it'll be an exponential advance. Mobilizing 5G has the potential of redrawing the lines of what's possible around connectivity. It moves us from a world where you do things on your devices to a universe where you do things across devices—devices that will increasingly do things automatically for you.
In the nearer term, Mastercard is already working with public transit systems to enable commuters to use their mobiles to pay, lowering costs for paper tickets, ticket machine upkeep, and fare collection. With 5G, transit providers can also collect and read critical information in real time to improve service, including increased efficiencies for buses and ridership and life-saving increases in response times to accidents and emergencies.
And within those cities especially, retailers and their consumers could have much-improved, personalized, and customized services. Inventory management will happen faster and better because of intelligent reordering in the B2B supply chain. Consumer goods that have an expiration date, undergo wear and tear, or simply run out will reorder themselves.
In the longer term, 5G has the potential to bring connectivity to remote areas, where building hardwire infrastructure can be cost-prohibitive. The potential net effect cannot be overstated. 5G could vastly accelerate efforts by companies like Mastercard as well as organizations like the United Nations, the World Bank, the Bill and Melinda Gates Foundation, and many more that are working together to include more populations in the global economy.
Equally important, 5G can do all this while lessening the carbon footprint. Not having to scale hardwire infrastructure means less equipment transport, wires, lines, and workers required to build that infrastructure. Repeat this on a global scale, and the impact can be sizable.
So, how do we make 5G happen? The To-Do List is substantial, but starts with partnerships across various sectors and industries. One key To-Do is greater interoperability among systems and machines, so that they can communicate with each other instantaneously and securely. This requires a combination of global standards and protocols, increased security, including new authentication methods for payments, strong but sensible regulation, and a way to facilitate data sharing.
The deployment of 5G may be a few years away, but the time to start placing bets is now. That's what we are doing at Mastercard, working with our partners to lay the groundwork for enabling secure commerce on and across all devices. By way of example, in partnership with banks and retailers, we're scaling a solution called Masterpass that allows you to make purchases online, in-store, and in-app from any connected device in a simple and secure way.
It's been said that the "great thing in this world is not so much where we stand, as in what direction we are moving." We are moving in the direction of a new generation of technology that can define a new generation of commerce. Fulfilling the potential of 5G is not a solo expedition. It's a journey of partnership that begins now.
—Garry Lyons is chief innovation officer at Mastercard Inc.