For years, experts have predicted electronic payments would finally turn the check into an historical artifact. But data released last year indicate that the long-term decline in check volume has slowed, and now experts are trying to figure out why and what the ultimate check-killer will be.
When the Federal Reserve released its triennial payments study late last year, it showed check payments totaled 17.3 billion in 2015. That was down 12% from 19.7 billion in 2012—but the drop was much more modest than many expected. "My eyes popped out of my head," Brad Kvederis, marketing and research manager at Digital Check Corp., a Northbrook, Ill.-based marketer of check-scanning equipment, tells Digital Transactions News.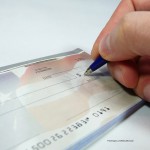 It's Kvederis's job to keep an eye on trends in overall check volume. He had expected a slowing in the decline of checks, just not one this dramatic. His projection indicated the figure would be more like 14 billion to 15 billion. "Not only did we get the right answer" about the slowdown, he says, "we weren't bold enough."
Kvederis points to a succession of four electronic alternatives that have pushed some—but by no means all—checks out of the payments stream since the early 1990s: direct deposit, credit cards, debit cards, and prepaid cards. Indeed, check volume fell sharply after 2000, when total items numbered more than 40 billion, as Kvederis shows in a white paper he prepared this summer, "The Reappearing Check: Why the Decline of Paper Finally Slowed." But now, instead of disappearing by 2021, checks may well linger into the 2030s, he says.
The reason largely involves small businesses, which cling to checks because the existing electronic alternatives don't fully suit their needs or are too costly, Kvederis points out. In some cases, alternative methods are marketed by non-bank companies, which don't control deposits. That means they have to charge fees to make money.
"Why hasn't PayPal replaced every check?" Kvederis asks. "If you're not a bank, you don't have that deposit account. You either make money off the transaction or you're out of business. That's why I think the banks hold all the cards."
So what will ultimately kill off those stubborn remaining checks? Kvederis says the alternative must meet three requirements: it must be easy to sign up for; it must work flawlessly; and it must be either free or very cheap to use and accept.
One candidate is a fledgling person-to-person payment network launched in June by many of the nation's major banks. Zelle enables very nearly real-time transfers and competes with popular non-bank services like PayPal Holding Inc.'s Venmo. If Zelle makes a determined effort to go after checks, and keeps its fees very low or at zero, "then you've really got something that can replace checks," Kvederis says. Already, PayPal has felt pressure to find ways to make money from Venmo, whose service is free. The latest example is a Venmo debit card, which is being tested and could earn significant interchange income if it's commercially launched.
But Kvederis hastens to add that, while Zelle may succeed in converting checks into electronic transfers, that will have little impact on the core business of PayPal or Venmo. The users of these services, he says, "aren't writing checks."
There could be an impact, however, on companies like Kvederis's employer. The slowdown in check erosion allows companies whose livelihood depends on checks to breathe a little easier, for now. The future, should that erosion accelerate again, "is a little bit scary," Kvederis says.
Still, he's optimistic. "Digital Check has re-invented itself several times over the years," he notes. "We always want to figure out our timeline. You don't want to end up like Kodak."