A pioneering mobile-payment wallet for mass transit has reached a milestone. Chicago's Ventra app has been downloaded more than 2 million times since it became available in November 2015, according to an announcement Monday from Cubic Transportation Systems, the San Diego-based company that developed the app. Commuters have bought almost $250 million in fares on the app in that time, Cubic added.
The rate of download also appears to be heating up somewhat. The first million downloads occurred within 11 months, according to Cubic. Now the second million has required 10 months.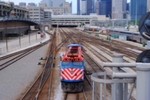 The free app works on the Chicago Transit Authority, which operates the city's elevated and subway systems well as its bus network. But it can also be used to pay for fares on two other systems, the suburban Pace bus operator and Metra, a commuter-train line. When it launched, it was the first mobile app allowing commuters to pay for transit on more than one system.
"The fact that the Ventra app has been downloaded more than 2 million times in less than two years demonstrates why CTA is leveraging technology to improve the transit experience for our customers," said Dorval R. Carter, Jr., the CTA's president, in a statement.
Besides payments, Ventra allows users to check balances, add value, set up an auto-load feature, view purchase and transit history, and get real-time notifications. Payments can be made with a CTA smart card or via branded bank cards and third-party apps like Apple Pay, Android Pay, and Samsung Pay.
"At the time of the launch…we hoped [the Ventra app] would not only become a useful and convenient tool for commuters but also help people better engage with city transit overall," said Matt Cole, president of Cubic Transportation Systems, in a statement. "Today's milestone shows there's a growing appetite for integrated, 'one-stop-shop' transportation solutions that put customers at the heart of public-transit services." Cubic Transportation Systems is a unit of Cubic Corp.
Monday's announcement follows the CTA's notice last week that it is launching a text-message service to alert commuters about crowded trains when the Chicago Cubs are playing home games at night. The service, in which is Mastercard Inc. is sponsoring incentives to persuade riders to avoid trains at certain times, requires riders to sign up with a registered Ventra card.