The price of Bitcoin may have gotten hot in recent months, but investor interest in Bitcoin and blockchain startups could be cooling off. The population of unique investors pouring money into companies dealing in the cryptocurrency and its underlying infrastructure fell 27% last year to 217, according to the latest data from CBInsights. That's a sharp drop after a dramatic rise from 19 in 2012 to almost 300 in 2015.
This report follows an earlier one from CBInsights indicating the number of funding deals also swooned in 2016, to 132 from 161 in 2015. That's even below the 143 deals seen in 2014. "Bitcoin and blockchain investors may be signaling caution," says the latest report from CBInsights, a New York City-based firm that tracks investment in technology startups.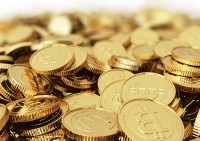 While it's likely that no single source accounts for that caution, the wild swings in Bitcoin's value may be playing a role. The cryptocurrency's price marched steadily upward in 2016, finally crossing the psychologically important $1,000 barrier early this year. But since the price has gone through numerous gyrations. Just within the past 30 days, it has swung from a high close to $1300 to a $900 low, according to data from Coindesk, a news service that tracks Bitcoin and other digital currencies. As of mid-morning Monday, the price stood just a tick above $1,132.
The most active investor currently is Digital Currency Group, which has poured money into more than 65 unique Bitcoin and blockchain firms in the past five years, according to CBInsights. These include Circle Internet Financial, Coinbase, and Ripple, three of the industry's most well-funded companies. The number-two investor is Blockchain Capital, with 58 deals, followed by Draper Associates, Pantera, 500 Startups, and RRE Ventures.