Enthusiasts may lament the slow rate of adoption for mobile payments generally in the United States, but some researchers are forecasting robust growth for contactless payments via mobile wallets at the point of sale. In a recent report, New York City-based research firm eMarketer said so-called proximity mobile payments will exceed $1,000 per user in the U.S. for the first time this year. That number will be $1,026, and will more than double to $2,646 by the end of 2021, the firm forecasts.
Overall, mobile proximity payments will total $49.29 billion in 2017, up 78.1% from last year, eMarketer figures.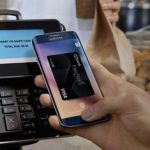 The research firm defines proximity payments as any in-store payment "made by scanning, tapping, swiping, or checking in with a mobile device." The definition excludes payments made via tablets, and of course excludes online purchases and purchases of digital goods. Well-known services like Apple Pay, Android Pay, and Samsung Pay rely on a contactless technology called near-field communication for POS transactions, but many proprietary wallets from retailers depend on scanning of quick-response codes to link mobile devices to POS readers.
The report, "US Mobile Banking and Payments: eMarketer's Estimates for 2016-2021," credits the usual suspects for the growth in in-store wallet transactions, but adds that grayer users are starting to warm to the service. "Millennials have pioneered the adoption of both mobile banking and payments, but adoption is also rising among older adults," eMarketer says. So much so, in fact, that the firm projects total mobile POS volume will rise to $189.97 billion by 2021.
Users are also inclining more toward low-value purchases. While goods and services priced less than $20 accounted for 26.6% of volume in 2016, that proportion will rise to 27.5% this year and to 28.2% by 2021, eMarketer projects. By contrast, high-priced goods, those priced at $100 or more, will slip dramatically, from 21.2% to 14.6%.