Square Inc. outlined its growth plans with an emphasis on selling new services and expanding internationally during its first investor day on Tuesday.
In its presentation, Square said it wants to improve the efficiency of acquiring merchants, which it calls sellers; move its services up market to larger merchants; grow and retain its existing customer portfolio; and make more international expansions. In March, Square launched in the United Kingdom, having already debuted in Canada, Japan, and Australia.
Square said its gross payment volume was $53 billion for the trailing 12 months ended March 31. In the United States alone, Square estimates it has a $64 billion opportunity spread across payments ($26 billion), e-commerce ($5 billion), software ($8 billion), Square Capital, its financing unit ($14 billion), and Caviar, a meal-delivery service ($11 billion). Globally, the potential is six to seven times that of the U.S. market, Square says.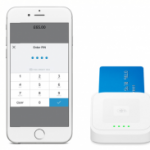 In the first quarter, Square's total revenue increased 22% to $462 million from $379 million a year prior.
Square said it can recruit bigger merchants besides the individuals and small businesses it has specialized in because more than 80% of its large merchants board themselves online and the majority of its sales leads are inbound. And, unlike traditional acquirers, Square focuses its sales pitch on expertise rather than price.
Square envisions three phases to its long-term growth. One is to scale is current product, including payments and its point-of-sale services. The next is to offer fast-growth products, such as Square Capital and Caviar, followed by longer-term products, such as: an e-commerce service; Square Cash, its person-to-person payments service; and Square Payroll.
From a stock-analyst point of view, the projections looked good. "We continue to acknowledge that Square is executing very well and come away from the event incrementally positive," says a research note from Canaccord Genuity Group Inc., a Toronto-based financial-services firm.
Similarly, stock analyst Robert Napoli of Chicago-based investment firm William Blair & Co. liked what he heard from Square. "We remain impressed with what Square has accomplished and believe it is at the forefront as it melds payments and software and has successfully grown its addressable market," he wrote in a research note.
Napoli cautioned, however, that Square Capital could be the company's "Achilles heel," noting that "it is inevitable that the Capital business will have significant negative volatility, especially in an economic downturn and maybe earlier, and is a key risk factor for investors at current valuation levels."
The investor day presentation revealed that 254 million unique payment cards were used on Square for the 12 months ending March 31, equating to 35 transactions per second.