Paying for fuel at an Exxon Mobil Corp. gas station just got even easier. That is, for those who use the ExxonMobil Speedpass+ mobile app and drive a Ford vehicle with SYNC3 technology or use Apple Inc.'s Apple Watch.
Speedpass+, which also is available for Android devices and offers Samsung Pay integration, enables consumers to pay at the pump without inserting a credit or debit card into a fuel-pump reader, a step that minimizes the risk of card skimming.
Irving, Texas-based ExxonMobil announced the update Thursday to the app. Consumers with SYNC3-equipped Ford vehicles now can use the in-vehicle touchscreen or voice commands to authorize payment, a technique ExxonMobil says is the first of its kind in the United States. The update also enables them to check their fuel levels using the Speedpass+ app.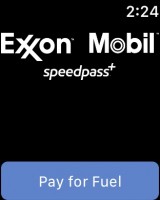 "The SYNC3 connection works by integrating apps from the user's smart phone with the SYNC3 head unit," Bryant Russell, Americas program manager of mobile payment and loyalty for ExxonMobil Fuels, Lubricants and Specialties Marketing Co., tells Digital Transactions News by email. "Android users can connect using Bluetooth while Apple users connect using a USB cord. Once connected, users can navigate through the Speedpass+ app using voice commands or the Ford touch screen to find a station, select a pump, and begin paying for fuel."
The integration between the app and the SYNC3 system enables drivers to create fuel-level alerts, Russell says, that will notify them of nearby Speedpass+-enabled stations once a minimum fuel threshold has passed.
The update also includes the ability to use an Apple Watch to authorize and pay for fuel at the pump. "It gives an even more streamlined way to pay for fuel by simply opening the app from the watch, twisting the knob on the watch to select the pump, and then authorizing payment," Russell says.
He declined to disclose specific transaction data, but says volume has "grown steadily over the past year since we launched."
In addition to payments, the app can present offers to consumers and is integrated with Plenti, a multimerchant loyalty program. Russell says an incentive is forthcoming within two weeks for customers who use Speedpass+ and add a Plenti membership to the app.
In addition to the mobile-payment services, consumers can use credit and debit cards, and ExxonMobil-branded credit cards with Speedpass+. The company also launched an "Apply and Buy" feature to the app. Following approval for the ExxonMobil Smart Card—issued by Citibank N.A.—the card account is automatically added as a Speedpass+ payment option.