Amazon.com Inc. announced an integration this week with an e-commerce platform called BigCommerce for its Amazon Pay service, but the company also clearly entertains big ambitions for the payment product it organized as a business in 2015.
For now, Amazon Pay is on an upward trend. Some 33 million consumers, half of them members of Amazon Prime, have activated the checkout service. The company won't say how many merchants accept it, but the number has more than quadrupled over the past two years. "The merchant base has grown very nicely," Patrick Gauthier, the former Visa and PayPal executive who is vice president of the Pay With Amazon unit, tells Digital Transactions News.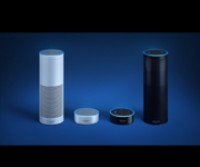 Overall, payment volume has quintupled since 2015. Indeed, 32% of that volume last year originated on a mobile browser or app, with that number reaching 36% in December. Now, integrations like the one with BigCommerce, which supports more than 50,000 e-commerce merchants, are expected to give Amazon Pay a further boost.
But Gauthier isn't ready to rest on those laurels. "What I'm focusing on this year is to go beyond the button," he says. The pay button on mobile apps, he says, is becoming less relevant in the marketplace because "consumers are not downloading apps" as much as they once did. In 2016, half of consumers downloaded no apps at all, and the average for the other half was a grand total of three per person, according to statistics Gauthier cites during an interview Tuesday at ShopTalk, a retail-technology trade show in Las Vegas.
"That creates a challenge," Gauthier says, that Amazon is planning to meet by intensifying its efforts in so-called connected devices. It's already off to a big start with the voice-activated Alexa service on the Echo devices the company sells. Already, as Gauthier points out, users can order an Uber ride via Alexa. TV commerce could be next, though Gauthier prefers not to go into details. "It's a direction from an Amazon Pay standpoint," he says. "We want to enable payments."
The Seattle-based tech giant is also watching results at some five brick-and-mortar Amazon bookstores it has opened around the country where smart-phone users can scan quick-response codes to get information on books, including product reviews, and pay for products they want.
One tack Amazon Pay isn't likely to take is to follow the various "Pays" from the smart-phone marketers that rely on near-field communication to enable transactions at the retail point of sale. Apple Inc. introduced Apple Pay in 2014, followed in 2015 by Alphabet Inc. and Samsung Electronics Co. Ltd. with Android Pay and Samsung Pay, respectively. "I'm solving for commerce," Gauthier says. "They're solving for selling devices."
The physical bookstores illustrate the problem with mobility limited to payment, he says. Fully 50% of shoppers in the stores are actively using their phones while they shop, but when they get to the checkout counter, only between 2% and 4% still have the phone out to make a payment. "They're telling us something about rubbing a phone at the point of sale," Gauthier observes. "You need to integrate mobile throughout the experience, not just in the last 15 seconds."
He also recalls his experience with contactless cards in this regard. "I launched contactless with Visa in 2005. Twelve years later, pundits can say all they want to, this did not take off," he says. "Consumers are trying to tell us something."