VeriFone Systems Inc. is getting closer to a sale of its payments service for taxis, the company announced Thursday during its third-quarter earnings call.
Announced in June, the divestiture of the taxi business, which VeriFone started 12 years ago, is in an active process, Paul Galant, chief executive, told analysts during the call. "We expect to complete this divestiture in the coming quarters," Galant said.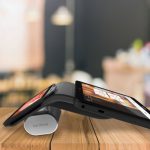 VeriFone's taxi-payment services, which included in-cab video content such as local news, weather, and traffic reports, eventually were deployed in many big-city fleets, including those in New York City, Philadelphia, Boston, Chicago, Las Vegas, Miami, Baltimore, and Washington D.C., and also some foreign cities. In-taxi card payments were routed through VeriFone's gateway, generating transaction fees for the company. The video content also produced some advertising revenues for VeriFone
"The taxi business is a very niche-specific business," Galant said. "It actually has, I think, some good runway ahead of it. It needs the proper investment. It needs the proper focus. And I think there are a number of companies out there that would make a very good home for that business."
The transaction side and the advertising side of the taxi business have suffered, he noted. "What I can tell you is that both the transaction business as well as the advertising business within the taxi vertical have softened and the numbers that we had planned, which were conservative by the way…we're just not going to hit those numbers in that business. And there is a whole host of reasons as to why that is: ride sharing, the fact that a lot of the fleet owners are clearly upside down on their leases."
VeriFone also restructured its China operations. It now is a minority stockholder in the local Chinese company created from this move. It also spun off its Petro Media business, which sells advertising and content to convenience-store operators, into a joint venture earlier this year.
In other business, VeriFone said North American sales experienced gains in the small-business category, but they have been offset by the forecasted decline in sales to petroleum marketers. Gasoline stations have received a three-year extension until 2020 to meet EMV standards or assume liability for fraud, hurting current sales of EMV equipment in that market.
VeriFone is pinning its hopes, in part, on its new Engage point-of-sale terminals and Carbon integrated payment device, and their accompanying services business model, as growth catalysts. VeriFone expects to have approximately 400,000 connected devices in North America by the end of 2017 that will generate ongoing revenue.
"Our top strategic goal is to scale this annuity-based services business globally, and we are making real progress in many markets including the United States, Israel, New Zealand, and the entire Nordic region, to name just a few," Galant said.
He said tests of the Carbon device are on track, and Galant expects full production in VeriFone's fiscal 2018, which begins Nov. 1. "In North America, we see growing interest in Carbon from the merchant-acquiring community, from our top-tier retailers, as well as our larger ISOs," Galant said.
VeriFone, in the third quarter ending July 31, had revenue of $466.9 million, a 4.3% decrease from $488.1 million in the 2016 third quarter. It posted a loss of $71 million, compared with a $31.1 million loss last year.
For the first nine months of fiscal 2017, VeriFone had revenue of $1.4 billion, a 6.7% decrease from $1.5 billion. Its year-to-date loss was $176.9 million, compared with $4.7 million.
VeriFone had $65.7 million in restructuring charges in the quarter, related to the divestitures, and $135.7 million in charges year-to-date.