Young adults are famous for their enthusiasm for new technologies, and that perception appears to be confirmed by a new study that compared adoption of in-app payments by various age groups.
The recently released "2017 U.S. Mobile App Report" from Internet metrics firm comScore Inc. found that 23% of adult smart-phone-owning respondents ages 18 to 34 years old—Millennials—had made 12 or more in-app purchases in the past year. Another 23% had made five to 11 in-app purchases.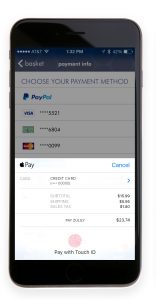 In contrast, only 15% of respondents ages 35-54 had made five or more in-app purchases in the past year, and the corresponding total for respondents ages 55 and older was a mere 5%.
On the flip side, 30% of Millennials had not made any in-app purchases in the year before the survey, compared with 58% of respondents aged 35-54 and 72% ages 55 and older.
So why are young adults such heavy adopters of in-app payments?
"Millennials tend to be more sophisticated users of technology, which means a greater degree of comfort with digital transactions and fewer concerns around security with mobile commerce," Andrew Lipsman, senior vice president of marketing and insights at Reston, Va.-based comScore, tells Digital Transactions News by email. "It's also likely driven by Millennials being much heavier users of mobile gaming, which accounts for a disproportionate amount of in-app purchases."
The survey drew on several comScore data sets of behavior by adults with access to desktop computers, smart phones, and tablets, including a July poll of 1,033 smart-phone users.
The affinity of Millennials for in-app payments, however, hasn't changed the fact that usage of mobile wallets such as Apple Pay, Android Pay, and Samsung Pay still is quite low at the point of sale. Lipsman says mobile wallets have yet to offer a significant improvement over just whipping out a credit or debit card.
"I have sometimes heard that mobile payment is a solution in search of a problem," he says. "The act of pulling out your phone, authenticating, and selecting the right card to make a payment doesn't necessarily save any steps—and may even involve more steps depending on how many swipes a user needs to ultimately conduct to make the payment."
Lipsman adds that because POS terminals that accept mobile payments aren't yet commonplace, "it … limits the ability of consumers to develop the ingrained habit of paying via mobile. Until these and other friction points are significantly reduced, it's likely that most consumers will remain comfortable with the status quo."
The notable exception in mobile payments remains PayPal Holdings Inc., which reported that $36 billion, or 34%, of its $106 billion second-quarter total payment volume came through mobile devices, up 50% from a year earlier.
Most of the comScore report dealt with non-payment subjects involving mobile apps. Among its many findings were that 44% of Millennials use 21 or more apps per month, with 15% using more than 31.