Cayan's new Genius Mini card reader may look like any number of headphone-jack or Bluetooth devices meant to connect to a smart phone or tablet to enable payment card acceptance. That's because it's the software the Genius Mini uses that distinguishes it from similar devices.
The device is designed to work with point-of-sale software using the semi-integrated model. Payment data is captured by the device, but instead of the POS software handling the transaction, Cayan's Genius middleware manages the connection to Cayan's gateway and through to processors. The process encrypts and tokenizes the payment data, Cayan says. This can help reduce the scope of a merchant's PCI compliance obligations, Cayan says.
Boston-based Cayan, a payments-technology developer that sells merchant services directly and via agents, will launch the Genius Mini, which complements the Genius Countertop and Handheld devices, in June for iOS devices. Android and Windows versions will follow.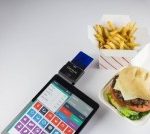 The Genius Mini device relies on the semi-integrated model to secure transactions with point-of-sale software.
Genius Handheld debuted in February, and uses the same application programming interface as the Genius Countertop device.
The Genius Mini device connects via insertion into a device's headphone jack or by Bluetooth. It accepts EMV chip cards, near-field communication, and magnetic-stripe payments, but not PIN debit. The PIN pad was sacrificed in favor of shrinking the device.
Cayan views the device as an additional tool for software developers, says Marc Castrechini, Cayan vice president of product management.
"What we're finding is that some of the larger [independent software vendors] don't necessarily want to replace the use cases they're doing," Castrechini tells Digital Transactions News. "They just want to add to that product suite."
For example, an ISV may find that its retail customers want to add a line-busting payment device or enable in-aisle checkout, he says. The new device can do that without imperiling the integrity of the payment data, he says.
Adding Genius Mini requires inserting two lines of code into the POS software, an exercise that typically takes minutes, Castrechini says. Genius Mini probably will sell for less than $100, he says.
As for how Cayan will market it, the company is starting at the National Restaurant Association Show that begins May 20. One reason for that is to tout the Genius platform, with its Handheld and Mini devices, as a way to enable pay-at-the-table, Castrechini says.
Another reason is that EMV adoption lags at many restaurants, he says, as many restaurant owners are still trying to figure out how to incorporate EMV at server stations. The Genius technology could aid them and be another piece of their strategy, he says.