The increasing commercialization of mobile payments is showing up in a proliferation of so-called Pays from a bevy of banks, tech companies, and merchants.
Time was, a cutting-edge alternative-payment service involved entering card or bank-account details into a branded interface on a laptop computer. Mobile payments were nascent, held back by the limited power and ergonomics of flip phones. Even the advent of smart phones didn't make an immediate difference. Then, in 2014, Apple Pay emerged for the iPhone, and suddenly consumer payments were cast in a whole new light.
It wasn't long before other "Pays" followed, from among Apple's competitors in the handset market, of course, and from among tech giants like Google, but also from among a surprising array of companies you wouldn't think of, ordinarily, as technologically savvy. By 2016, consumers could get a mobile-payments app from merchants like Kohl's or Wal-Mart, or from banks like Chase or Citi, that streamlined payments and rewards in ways that would have been unimaginable a few years earlier.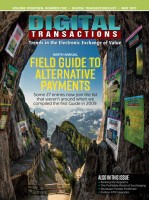 It's the new world of alternative payments, and it's pretty much a mobile world now. That's thanks not only to smart phones but also to clever application programing interfaces and the relatively recent opening of tech shops to outside developers with smart ideas for integrating payments functionality with new apps (for more on this, see Strategies).
So here we are with our 9th Annual Field Guide to Alternative Payments, and, as you might expect, it bears little resemblance to the first Guide we put together in 2009. Herein, you'll find fully 27 entries that either didn't exist back then, or that were too nascent to include. You'll also find more than half a dozen "Pays," more if you count services like People Pay and Self Pay. The inventors of the smart phone may not have conceived of the device as a payments tool, but in due course that is what it has become.
As in prior years, Digital Transactions generally defines an alternative-payment system as any network or consumer interface (a mobile app, for example) that displaces the Visa/MasterCard/AmEx/Discover networks (seen as one traditional system for this purpose), enables payments in a way that stands apart from that network (even if it ultimately uses it), and/or stands between that network and the consumer in an important way. We emphasize consumer-facing payment systems, but of course many, if not most, of the systems profiled here market themselves to merchants to maximize acceptance of their products.
This year, we are also including companies like CardFree and SimplyTapp that do not directly offer mobile-payment services to consumers but do develop the software that makes innovations like mobile order and pay and host card emulation possible.
Information for the listings comes from news reports over the past year, company Web sites and spokespersons, and financial filings in a few cases. We list pricing for the merchant and consumer when it is publicly available. The "Year Founded" line refers to the year the particular service was founded, not the parent company, except in those cases where the two coincide.
Amazon Pay
Parent  Amazon.com Inc.
Headquarters  Seattle, Wash.
Year Founded  2009 (as the Flexible Payments Service)
Web Site  pages.payments.amazon.com
Field Notes Tightlipped Amazon doesn't disclose many statistics about Amazon Pay, but its online and mobile checkout service is clearly growing fast. Some 33 million consumers, half of them Amazon Prime members, have activated the service, giving it a built-in user base. Payment volume is up by a factor of 5 just since 2015, with nearly one-third of that volume last year coming from a mobile browser or app. Now, Amazon is returning to its roots as a bookseller, having set up five physical bookstores around the country where customers can scan quick-response codes to get product information, including reviews, and pay for the books they want. That encourages customers to keep their phones out, which in turn makes it more likely they'll use the devices to pay, Amazon says.
Android Pay
Parent  Alphabet Inc.
Headquarters  Mountain View, Calif.
Year Founded  2015
Web Site  android.com/pay
Field Notes Android Pay is the mobile wallet that Google parent company Alphabet unveiled in September 2015 to take over the point-of-sale payment functions once assigned to Google Wallet, which is now a person-to-person payments service. Android Pay is now live in nine countries, including the U.S., United Kingdom, and Japan. The service, in addition to supporting in-app payments, also is available on the mobile Web and works with Visa's Visa Checkout and Mastercard's Masterpass as well. Android Pay works with KitKat 4.4 and later versions of Alphabet's Android mobile operating system and comes preloaded on Android phones sold by the major carriers. The service uses near-field communication and also host card emulation, a technology that relies on credentials delivered from cloud servers using tokens to mask account data. This allows card issuers to bypass a mobile phone's secure element, typically the SIM card or a chip installed by the device manufacturer.
Apple Pay
Parent  Apple Inc.
Headquarters  Cupertino, Calif.
Year Founded  2014
Web Site  apple.com/apple-pay/
Pricing Free to consumers, but merchants pay standard per-transaction fees. Credit card issuers pay 0.15% of sale, debit card issuers 0.5 cents.
Field Notes Apple's almost 3-year-old Apple Pay continues to be adopted by more banks in more countries and by more service providers. Most recently, The Western Union Co. integrated the service into its app in April. More than 2,100 banks in the United States, Canada, Europe, and Asia support Apple Pay with their cards, according to Apple's Web site. Yet, widespread adoption, especially among U.S. consumers, remains low. Indeed, a Juniper Research report in April said that Apple Pay had 45 million users, but user growth in the U.S. market has been flat, according to another firm, Phoenix Marketing International. Apple said the number of Apple Pay users tripled over the course of 2016 as the service launched in new countries. One bright spot has been the adoption of Apple Pay for online purchases. Though available only in Apple's Safari browser, the service has been adopted by many merchants. E-commerce platform provider Shopify Inc. said more than 150,000 merchants offered the service within five months of its debut. In addition to payments, Apple Pay uses loyalty to entice consumers. Walgreens Balance Rewards was the first loyalty program to integrate with Apple Pay in 2015, and now many others, including USA Technologies Inc.'s MORE program for vending purchases, are tied to Apple Pay.
Bitcoin
Parent  None
Year Founded  2009
Web Site  bitcoin.org/en
Pricing Depends on processor. Typically free to consumers, with a transaction fee to merchants that is less, sometimes drastically less, than credit card discount rates.
Field Notes Bitcoin, which had traded in the low hundreds for years, suddenly saw its value take off in 2016. From a price of around $450 a year ago, the digital currency rose steadily through 2016, finally reaching the symbolically important $1,000 level by early January, a height it hadn't scaled since late 2013. There were several factors driving that increase, among them an event dictated by Bitcoin's software that cut compensation to Bitcoin miners, but the result was that the currency began to look more valuable as an investment than as a medium of exchange. Meanwhile, the split continues between enthusiasts over the question of how best to increase capacity to allow for growth. One side, called Bitcoin Unlimited, would like to see no limit on block size on the blockchain, the distributed-ledger system that manages Bitcoin transactions. The other side, Bitcoin Core, wants to leave things the way they are. Neither side seems willing to compromise, leading the Unlimited camp to propose a so-called hard fork of Bitcoin's software. That would in effect create two versions of the currency, a development that has added to Bitcoin's price volatility.
CardFree
Parent  CardFree
Headquarters  San Francisco
Year Founded  2012
Web Site  cardfree.com
Field Notes Consumers wouldn't recognize CardFree's name, but plenty of them are using its technology these days. CardFree's platform supports mobile gift cards, digital offers and loyalty programs, order-ahead services, and social-media integration. It is the provider of the mobile-application platform for Dunkin' Donuts' On-the-Go Ordering app, which includes the ability to order and pay ahead. Dunkin' Donuts has more than 8,000 U.S. locations. Other CardFree clients include Taco Bell, Sonic Drive-In, and Checkers/Rally's. CardFree chief executive Jon Squire helped develop the Starbucks Card mobile program while working at mobile developer mFoundry, which Fidelity National Information Services (FIS) bought in 2013, and also has experience at CorFire, which Mozido Inc. purchased in 2014.
Chase Pay
Parent  JPMorgan Chase & Co.
Headquarters  New York City
Year Founded  2015
Web Site  chasepay.com
Pricing  Volume-related fixed fee for merchants.
Field Notes The Chase Pay wallet represents the biggest effort yet by a bank to break into the mobile-payments market. It leverages Chase's 94 million Visa credit and debit card accounts and its closed-loop ChaseNet network that includes the huge Chase Paymentech merchant-acquiring operation. Merchants pay a volume-based fee, but not payment-network interchange on Chase Pay transactions. An alliance with the Merchant Customer Exchange (MCX) consortium of 40 big-box retailers, airlines, and grocery chains representing 70 consumer brands, offered much promise, but MCX shut down in 2016. Still, Chase Pay works at locations belonging to the CurrentC mobile-payments network MCX created, including Wal-Mart and Target. Also, in March, Chase announced it was buying MCX's payments technology. Point-of-sale Chase Pay transactions use barcodes, as did MCX. Chase Pay also offers single-click online and in-app purchases. Transactions are tokenized and support merchants' loyalty programs, Chase says.
Circle
Parent  Circle Internet Financial Ltd.
Headquarters  Boston
Year Founded  2013
Web Site  circle.com
Field Notes The Circle app is a person-to-person payments platform, but it's also more than that. The app lets you send money via a messaging interface, but also lets you add text, emoji, pictures, and animated gifs to payment URLs. Think of it as a more private version of PayPal's Venmo: With Circle, information is visible only to sender and recipient; with Venmo, transactions appear on a public feed. Circle has licenses to launch the app in 16 countries, including the United States and United Kingdom. While the company has moved away from the Bitcoin exchange it once was, it still uses the cryptocurrency to move money internationally without the delay and fees associated with cross-border payments. For currencies for which Circle doesn't maintain reserves, the company expects customers to use the Bitcoin blockchain. That operation is supported by Spark, a platform of smart-contract protocols Circle launched in December.
Coinbase
Parent  Coinbase Inc.
Headquarters  San Francisco
Year Founded  2012
Web Site  coinbase.com
Field Notes Coinbase is a popular marketplace for consumers and merchants to trade in, accept, or buy things in Bitcoin, the best known of the digital currencies. The company offers a digital wallet, which it redesigned last year, that works on the iPhone and Android smart phones. Coinbase claims 6.4 million users, up from 3.6 million a year ago, 14.5 million wallets, 45,000 merchants, and 9,000 developer apps. Coinbase charges merchants a 1% fee (less based on volume) to convert Bitcoin into local currency. In the U.S., purchase and payout transactions funded with a bank account or the Coinbase wallet are charged 1.49% of the transaction amount. Transactions funded with credit and debit cards and PayPal are assessed 3.99%. Deposits funded through the automated clearing house are free, while wire-transfer deposits cost $10. In January, Coinbase obtained one of the first so-called Bitlicenses from the state of New York so that it could continue operating in the Empire State. In late 2015, Coinbase launched its Shift card, a Visa-branded plastic debit card. The company also offers Ethereum, an experimental digital currency that, according to Coinbase, is in the second of four planned stages of development.
CVS Pay
Parent  CVS Health Corp.
Headquarters  Woonsocket, R.I.
Year Founded  2016
Web Site  cvshealth.com
Field Notes Along with Wal-Mart Stores Inc., CVS was one of the major backers of the Merchant Customer Exchange LLC mobile-wallet consortium to launch its own product when it became clear MCX's CurrentC wallet was stalled. Introduced in August, CVS Pay is part of the pharmacy chain's shopping app, which works with both Android and iOS devices. And, like Walmart Pay, it permits customers to load any major-brand credit or debit card. Health-savings and flexible-spending account cards are also eligible. Users pay by showing a barcode on their device screen, which the clerk will scan. The user receives payment confirmation in the app once the sale has been rung up. CVS Pay includes the chain's ExtraCare loyalty program, which the company says has enrolled 70 million members. The app will automatically add new deals and process eligible discounts. An important feature for a pharmacy is the app's ability to automatically process and pay for prescriptions while allowing the user to keep private information like birth dates.
Dunkin' Donuts
Parent  Dunkin' Brands Group Inc.
Headquarters  Canton, Mass.
Year Founded  2012
Web Site  dunkinbrands.com
Field Notes Starbucks gets most of the attention when the topic turns to mobile apps from restaurant chains, but the Dunkin' Donuts app is one of the field's most popular contenders. Customers downloaded the coffee-and-doughnut chain's Android and iPhone app 3.5 million times in the first year after its 2012 launch. Members of the DD Perks rewards program, who numbered 5 million as of last August, get offers through the app, which links to prepaid DD Card accounts. The app uses bar codes for payment and rewards redemptions. In June 2016, Dunkin' introduced a new mobile app developed by CardFree that includes On-the-Go Ordering, an order-ahead and pay feature—a feature Starbucks rolled out with great success.
Dwolla
Parent  Dwolla Inc.
Headquarters  Des Moines, Iowa
Year Founded  2008
Web Site  dwolla.com
Field Notes Dwolla has executed a strategic shift away from handling online and mobile transactions directly for consumers who want to pay merchants and each other. Instead, the company now focuses on selling programming to clients that want to process those payments themselves but lack back-end connections to banks. What's more, Dwolla keeps its name out of these deals as part of its shift to white-labeling its application programming interfaces. Its white-label payments APIs are now available in a freshly organized package known as Access API. With these APIs, merchants, marketplaces, and platforms can pick the code they need to build the bank-account links their services require. Included are capabilities to effect transfers, create a funding source, and create an account.
ExxonMobil Speedpass+
Parent  ExxonMobil Corp.
Headquarters  Irving, Texas
Year Founded  2016
Web Site  exxon.com/en/speedpassplus
Pricing  Free to consumers.
Field Notes ExxonMobil's Speedpass+ app debuted as a smart-phone app that used mobile-payments services and credit and debit cards to make in-app payments for fuel at the pump. The app, which harkens back to the petroleum giant's original 1997 contactless fob called Speedpass, enables consumers to pay for fuel and other convenience-store products and services without dipping a card into a reader. It determines the consumer's location either via the global positioning system or bar code on the pump scanned by the consumer. Once a transaction is initiated, the consumer can authorize payment with a stored credit or debit card, or Apple Pay, if using an iPhone, or Samsung Pay, if using an Android smart phone. The app is not only a way to avoid dipping a card, and perhaps exposing it to a card-skimming device, but as a way to drive additional sales with prompts for offers in stores or a car wash.
Facebook Messenger
Parent  Facebook Inc.
Headquarters  Menlo Park, Calif.
Year Founded  2015
Web Site  messenger.com
Field Notes The big ongoing news for Messenger these days is the activity it sparked last year by allowing chatbots to crawl its network. These bits of code have created a new way to order and pay by using forms of machine learning to automate transactions on a messenger app. By September, six months after opening the floodgates, Facebook said there were already 30,000 chatbots operating on Messenger, which with 1 billion users accounts for more than 60% of all users of mobile-messaging apps.
Gane
Parent  SimplyTapp
Headquarters  Austin, Texas
Year Founded  2016
Web Site  gane.io
Field Notes SimplyTapp is the little startup best known for developing host-card emulation, a technology that enables near-field communication contactless mobile payments by using cloud-based credentials instead of an Android phone's secure element. HCE empowered wallet providers at the expense of phone manufacturers or mobile-network operators that previously had exclusive control of the secure element. Last fall, SimplyTapp, which has raised $10 million since its founding, broadened its product lineup with Gane, an Android and iOS mobile app that facilitates instant money transfers and collection, sharing, and redemption of offers and discounts. The app works with chatbots in messaging platforms such as Facebook's Messenger and Telegram.
Google Wallet
Parent  Alphabet Inc.
Headquarters  Mountain View, Calif.
Year Founded  2011
Web Site  google.com/wallet/
Field Notes Once a mobile-only service, Google Wallet became available on desktop computers and laptops in 2016. Wallet users can send money to anyone with a U.S. email address via Mastercard Inc.'s Mastercard Send platform. Google earlier this year said it would add new features to the P2P service over the course of the year. A user can now send money to a recipient's phone number, in addition to an email address, and recipients "can quickly transfer the money to their bank account—all without installing an app," a Google post said. Users also can set a debit card or a bank account as a default payment method, and any funds received go automatically into that account. "You can also request money on the Web and your friends can pay you back without leaving their browser," according to the post. Google's email service, Gmail, also enables P2P payments.
Klarna
Parent  Klarna
Headquarters  Stockholm, Sweden
Year Founded  2005
Web Site  klarna.com/us
Field Notes Klarna says there's plenty of room for growth in what many might perceive as a saturated market for retail credit. That's because Klarna has expanded its offering beyond its original online checkout to include financing. With Klarna, users have always been able to pay immediately against a card or up to 14 days after delivery. But lately the company has added the opportunity to pay in installments over a period of months. The company is betting that the financing offer, coupled with Klarna's one-click checkout, will appeal to younger consumers who have grown weary of using traditional credit cards. Klarna's mobile credit app, for example, asks for just the user's date of birth and the last four digits of his Social Security number. Since launching its U.S. salient out of its Columbus, Ohio, base in the late summer of 2015, Klarna has signed some big-name merchants, including Overstock.com, Shoes.com, Lenovo, and online fashion marketplace Lyst. The company will not disclose its U.S. merchant count, but across all its markets it reaches 70,000 merchants and 60 million users, according to figures it releases on its Web site. It has more than 2 million U.S. users, with more than half its U.S. volume coming from mobile devices.
Kohl's Pay
Parent  Kohl's Corp.
Headquarters  Menomonee Falls, Wis.
Year Founded  2016
Web Site  kohls.com
Field Notes A barcode-based service from the department-store chain, Kohl's Pay ties payments, loyalty, and offers into the Kohl's app, using technology developed by OmnyPay Inc. The service works only with the Kohl's Charge card, issued by Capital One N.A. Early data finds that 99% of Kohl's Pay users are members of the retailer's Yes2U rewards program and that 40% are sending offers from their wallets. Other data indicates that a least one Kohl's Pay transaction has now happened in two-thirds of the merchant's more than 1,100 stores.
LevelUp
Parent  SCVNGR Inc.
Headquarters  Boston
Year Founded  2011
Web Site  TheLevelUp.com
Field Notes LevelUp's big news is that it will supply the order-ahead capability for the Chase Pay mobile wallet, which is backed by JPMorgan Chase & Co., the nation's biggest bank. The deal with LevelUp received plenty of publicity because it came just as Chase Pay had debuted for in-store payments at Best Buy and Starbucks and was looking for a way to penetrate the quick-service and fast-casual restaurant market, which accounts for millions of daily and weekly sales. But there was more to the tie-up than a technology-sharing arrangement. Chase in September bought a stake in LevelUp for more than $10 million, linking the fate of the fledgling Chase Pay wallet even more closely to that of the startup, which has 1 million active users running $1 million each weekday through their smart phones at client eateries. LevelUp's mobile wallet has already built links to 5,500 restaurant locations nationwide for payments, offers, and order-ahead capability, plus another 2,000 in Boston for order-ahead only. The wallet can store national-brand cards and, like Chase Pay, links to point-of-sale scanners using quick-response codes.
Mobile Fill
Parent  Mitek Systems Inc.
Headquarters  San Diego
Year Founded  2015
Web Site  miteksystems.com
Pricing  Financial institutions pay fees to Mitek and set retail pricing.
Field Notes Mobile Fill leverages Mitek's image-capture software to enable consumers to use their smart-phone camera to take a picture of a bill, for example, to pre-fill fields and make a payment, or open a bank, credit card, or other financial account. The company's flagship product, Mobile Deposit, is offered by 5,400-plus banks and credit unions, and through it account holders have deposited more than $1 trillion in value on 1.5 billion checks. Now Mitek is moving into identity-verification technology.
MoneyGram Online
Parent  MoneyGram International Inc.
Headquarters  Dallas
Year Founded  2010
Web Site  moneygram.com
Pricing Varies, $4 for $500 online wire transfer to Mexico funded by checking account with cash pick-up.
Field Notes MoneyGram, the No. 2 domestic wire-transfer firm after Western Union, became the belle of the ball in January when China's Ant Financial Services Group announced it planned to buy the company for $880 million. Under the proposed deal, MoneyGram would retain its brand and Dallas headquarters. The combination with Ant Financial, which provides the Alipay mobile wallet, could give MoneyGram access to 630 million new accounts in the Asia-Pacific sector, including 450 million users of Alipay and another 180 million customers of Paytm, a mobile-payment provider in India with which Ant Financial has a partnership agreement. But in March, Kansas-based Euronet Worldwide Inc., owner of the Ria money-transfer service and which tried to buy MoneyGram a decade ago, submitted an unsolicited, $1 billion bid for its bigger rival. In April, Ant Financial upped its bid to $1.2 billion.
Mozido
Parent  Mozido Inc.
Headquarters  Austin, Texas
Year Founded  2005
Web Site  mozido.com
Field Notes Mozido, which has built a number of mobile wallets, including Dunkin' Donuts' first one, today is a behind-the-scenes specialist in mobile payments using near-field communication technology, especially an NFC variant called host card emulation. HCE enables mobile-wallet issuers to bypass the phone's secure element and instead manage payment credentials via a cloud configuration. Mozido is using HCE and tokenization in its noPOS service, which has an order-ahead feature and is aimed at eliminating traditional point-of-sale checkout procedures. Company president Mike Love says noPOS "has been received well. It's still early-stage." Mozido has relationships with more than 20 of the world's largest mobile-network operators, including AT&T, Vodafone, and Deutsche Telekom.
PayPal
Parent  PayPal Holdings Inc.
Headquarters  San Jose, Calif.
Year Founded  1998
Web Site  paypal.com
Pricing  2.9% plus 30 cents per U.S. merchant transaction; for PayPal Here, 2.7% for swiped transactions, 3.5% plus 15 cents for manually entered transactions.
Field Notes PayPal, which for years had been a frenemy, at best, of the major card networks, started making peace last summer. It began with a sweeping agreement with Visa that requires PayPal to favor costlier card over cheaper automated clearing house funding for accounts but gives PayPal crucial access to Visa's tokenization engine. That was the template for similar deals that followed with Mastercard, culminating in January with Discover. The agreements, while humbling in some ways for PayPal, help the company realize a long-held ambition to bring its wallet to physical stores. Deals with Citi and Fidelity National Information Services (FIS) and, last month, with Android Pay and Wells Fargo, serve the same purpose. To further another ambition, PayPal in February shelled out $233 million to buy TIO Networks, which specializes in bill payment for the underbanked, a market PayPal has targeted under CEO Dan Schulman.
P97
Parent  P97 Networks Inc.
Headquarters  Houston
Year Founded  2012
Web Site  p97.com
Field Notes P97 has no ambition to be a household name, though its technology is part of apps that backers hope consumers use most every day. Deriving its name from the debut of pay-at-the-pump technology in 1997, the company set out to devise a mobile-commerce product for the fuel-retailing industry. It provides the technology used by Phillips 66, Chase Pay, Gulf Pay, and with To Go Stores, a Puerto Rico-based convenience store chain. P97 also works with Mastercard Inc.'s Masterpass digital wallet and with ZipLine, a provider of decoupled debit programs that operates the SmartPay mobile-payments service for petroleum retailer Cumberland Farms, which has 600 locations in the Northeast. P97 announced its Mastercard partnership in 2015, and said then the value proposition to merchants is the ability to offer personalized digital offers, rewards, deliver push marketing messages, and manage incentive programs. The service also enables consumers to bypass the card reader built into fuel pumps. These readers were to be EMV compliant this October, but the card brands delayed the petroleum marketer liability shift until Oct. 1, 2020.
People Pay
Parent  Fidelity National Information Services Inc. (FIS)
Headquarters  Jacksonville, Fla.
Year Founded  2013
Web Site  fisglobal.com
Pricing  Set by financial institutions.
Field Notes People Pay is FIS's white-label person-to-person payment service. Financial institutions can apply their own brands and set pricing for the service. People Pay is built on the PayNet network FIS introduced in 2012 to offer real-time settlement for various non-card payments, and it also draws on FIS's NYCE electronic funds transfer switch that links thousands of financial institutions, including ones that aren't otherwise FIS clients. Users send payments through their bank's online-banking system using the recipient's email address or mobile-phone number. The recipient receives a text or email with instructions on how to retrieve the money. In 2016, Visa Inc. announced that its Visa Direct platform, which enables card-based real-time payments to more than 200 million Visa debit cards in the United States, had been integrated into People Pay.
Popmoney
Parent  Fiserv Inc.
Headquarters  Brookfield, Wis.
Year Founded  2009
Web Site  popmoney.com
Pricing Set by financial institutions. Senders on popmoney.com pay 95 cents per transaction. No fee to recipients.
Field Notes Launched in 2009 by CashEdge Inc., the Popmoney person-to-person payments service came under Fiserv's wing when the big processor bought CashEdge in 2011 for $465 million. Fiserv then merged Popmoney with its in-house ZashPay P2P service under the Popmoney brand. Funds sent via Popmoney must be deposited into an eligible account. The person-to-person payments arena is changing. Within the past year, Fiserv announced an alliance with Early Warning Services LLC, backer of Zelle, that combined that bank-owned digital payments network with Popmoney. The combination yielded a network for more than 6,000 banks and credit unions. The deal sees Fiserv offering Early Warning's P2P service to its clients.
Qwick Codes
Parent  MagTek Inc.
Headquarters  Seal Beach, Calif.
Year Founded  2012
Web Site  quickcodes.com
Pricing  $49.99 annual subscription.
Field Notes Qwick Codes rely on MagTek's MagneSafe security architecture to generate one-time transaction codes consumers can use in place of actual payment cards in stores, online, and at ATMs. Users add cards to the Qwick Codes wallet by swiping them with a reader supplied by MagTek. The wallet can also keep transaction parameters such as dollar limits, where the code can be used, and an expiration date, and users can revoke the code at any time. To use the code at the point of sale, the user scans a barcode generated on his smart phone screen. At ATMs or online, he enters the 8-digit code. ATM deployer Payment Alliance International is the latest to adopt Qwick Codes, in this case as an option in PAI's cardless ATM program.
Ria Financial Services
Parent  Euronet Worldwide Inc.
Headquarters  Leawood, Kan.
Year Founded  1987
Web Site  riamoneytransfer.com
Pricing  Varies, $3 online transfer fee for sending $500 to Mexico from checking account with cash pick-up.
Field Notes Euronet was founded in 1994 in Hungary and reorganized as a U.S. company in 1997. It provides ATM and point-of sale processing services, and prepaid mobile airtime. A third line of business provides wire transfers through Ria, which Euronet bought in 2007 for $490 million. Later that year Euronet tried unsuccessfully to buy Ria rival MoneyGram for $1.65 billion. Now Euronet is back, having submitted an unsolicited $1 billion bid for MoneyGram in March in an effort to best Ant Financial Services Group's $880 million offer, which MoneyGram's board had already approved but which had not closed. Last month, a determined Ant upped its bid to $1.2 bllion. MoneyGram shareholders are scheduled to vote on Ant's proposal May 16. Meanwhile, Ria has picked up considerable domestic wire-transfer volume through contracts with Wal-Mart Stores Inc., volume MoneyGram once had.
Ripple
Parent  Ripple Labs Inc.
Headquarters  San Francisco
Year Founded  2012
Web Site  ripple.com
Field Notes Ripple offers the XRP digital currency, which enables banks, money transmitters, and clearing houses to use Ripple as a low-cost, cross-border settlement system and alternative to correspondent banking. Settlements occur directly between banks within seconds. As with Bitcoin and the public blockchain, anyone can view the ledger and see a record of all activity on the Ripple network. Ripple says banks in nine countries, representing 15 of the top 50 banks, are implementing its system, and that it has 30 active integrations. CB Insights, which tracks startup firms, says $93.9 million had been invested in Ripple as of March.
Samsung Pay
Parent  Samsung Electronics Co. Ltd.
Headquarters  Suwon, GY, Republic of Korea
Year Founded  2015
Web Site  samsung.com/us/samsung-pay/
Field Notes The evolution of Samsung Pay continues as the consumer electronics giant behind the mobile-payment service searches for ways to gain advantages over its rivals. Like Apple Pay, Samsung Pay can connect to point-of-sale terminals via near-field communication. But, unlike Apple Pay and another NFC-based competitor, Android Pay, Samsung Pay also enables Samsung's Android phones to link to the POS via a technology called magnetic secure transmission (MST), which means it works with just about any mag-stripe reader in the market. Within the past year, Samsung Pay launched Samsung Rewards, which it sees as essential to furthering adoption. The program enables consumers to earn points for their Samsung Pay transactions, which can be redeemed for retailer gift cards, prepaid Samsung Rewards Visa gift cards, other Samsung products, and other items. Samsung Pay also gained an integration with Mastercard Inc.'s Masterpass digital wallet that enables consumers to shop online using a payment card stored in the Samsung Pay wallet. To use the service, consumers select the Masterpass button on a participating merchant's e-commerce checkout page. That generates a message on the Samsung Pay-enabled Samsung smart phone asking the consumer to confirm the transaction by touching the phone's fingerprint sensor. The transaction completes using the payment card and shipping information stored in Samsung Pay. Transactions are not tied to a specific browser, as with Apple Pay when used for an e-commerce purchase.
SelfPay
Parent  Digital Retail Apps
Headquarters  Toronto
Year Founded  2013
Web Site  digitalretailapps.com
Field Notes SelfPay enables consumers to pay for merchandise while standing in a store aisle and leave without stopping at a cash register. SelfPay supports cards carrying the Mastercard, Visa, Discover, and American Express brands. Consumers also can use their PayPal and Apple Pay accounts. The app presents only the merchant's accepted payment methods once the consumer has been located in the store. After recognizing the consumer, the app displays a custom retailer-branded screen, which unlocks the capability to make a purchase. The user scans either the Universal Product Code or a bar code generated by the retailer's point-of-sale system for items they are interested in. SelfPay then displays an in-store price and product description, also pulled from the retailer's POS system. The shopper adds the item to her cart, selects a payment method, and enters a SelfPay PIN. The transaction is routed to the merchant's payment processor. Among the latest updates to SelfPay is the ability to add a brand's loyalty program to a shopper's profile. The service also added the capability to work with a retailer's promotion program to generate and send offers. Digital Retail Apps has also released a software development kit for retailers that want to use SelfPay within their own branded app.
Square Cash
Parent  Square Inc.
Headquarters  San Francisco
Year Founded  2012
Web Site  cash.me
Pricing  Free to consumers, but businesses pay 2.75% per transaction.
Field Notes Square's person-to-person payments service added an instant-transfer option that deposits funds into the recipient's account for a 1% fee. Ordinarily, the service credits funds the next day, and without a fee. Square also launched Visa-branded virtual payment cards backed by Square Cash accounts. This allows users to tap their accounts to make payments to merchants online and in-app. Square is planning to make the cards work with Apple Pay and Android Pay, according to Recode, which would allow Square Cash users to pay at checkout counters equipped with near-field communication readers. With Square Cash, both the sender and the receiver of the funds must have a debit card. This allows Square to work through a process known as the original credit transaction (OCT). With an OCT, a processor like Square acts like a merchant reversing a transaction through the bank card networks, but instead of flowing to the sender, the credit from the reversal goes to the receiver's account.
Starbucks
Parent  Starbucks Corp.
Headquarters  Seattle
Year Founded  2011
Web Site  starbucks.com
Field Notes Starbucks Rewards is the coffee king's loyalty program, key components of which are a prepaid card and smart-phone app that was introduced in 2011. The app enables barcode payments and now accounts for 20% of Starbucks' transactions. Mobile Order & Pay, Starbucks' order-ahead and payment service, accounts for 7% of U.S. transactions, and the company says 1,200 stores are getting 20% of their volume at peak times through it. Inside some stores, crowds of customers picking up prepaid orders have been so thick that walk-in customers have left. Despite the logistics problems, Starbucks remains committed to the service and in March revealed plans to open an order-ahead-only test store at its Seattle headquarters.
Venmo
Parent  PayPal Holdings Inc.
Headquarters  San Jose, Calif.
Year Founded  2009
Web Site  www.venmo.com
Field Notes Venmo could just be the hippest person-to-person payments service in the wild. Its popularity with college-age and other younger users is such that it generates much of PayPal's mobile-payments growth. Unlike most other P2P services, Venmo combines streamlined payments with a social-media overlay, a feature that accounts for much of its popularity. The service clocked $5.6 billion in volume in the fourth quarter last year, and is still registering growth in triple digits, with volume growig 126% in the quarter. But because it's free, Venmo generates practically no revenue, a situation that's dragging down PayPal's take rate. To fix that problem, PayPal last year introduced a Venmo-based merchant-payments service, called Pay with Venmo, which it expects to start bringing in fees from retailers—but not right away. "We fully expect to roll out Pay with Venmo in 2017, but the big impact of that will be in 2018 or 2019," said CEO Dan Schulman in January.
Walmart Pay
Parent  Wal-Mart Stores Inc.
Headquarters  Bentonville, Ark.
Year Founded  2015
Web Site  walmart.com/cp/3205993
Field Notes Since its December 2015 debut, Walmart Pay has developed a devoted following among consumers. A majority of Walmart Pay transactions come from repeat users, a Walmart executive said. In July, the giant retailer completed the rollout of the mobile wallet to its more than 4,600 U.S. stores. Walmart Pay stores any credit, debit, or prepaid card, as well as Walmart gift cards, and works with both Apple and Android phones. This ability to use the retailer's own cards can be an advantage. Wal-Mart's card, for example, commands what one Aite analyst estimated to be a relatively low share of sales, probably under 10%. But the retailing giant's brand is indisputably strong. Instead, it's banking on convenience, particularly features like checkout speed, to appeal to harried customers, who may overlook the app's lack of rewards. With the Walmart app, for example, users can scan a code at checkout that allows them to walk away with their purchases as soon as they're bagged, with payment completed in the background. "You can pair the app with the cash register before you check out, which is pretty cool," the Aite analyst said. The wallet is part of the Walmart shopping app. The app only works for store purchases and not for fuel.
Western Union Online
Parent  The Western Union Co.
Headquarters  Englewood, Colo.
Year Founded  2012
Web Site  westernunion.com
Pricing  Varies, $4 for $500 online money transfer to Mexico with cash pick-up; bill payments vary by bill amount and funding method.
Field Notes The world's leading wire-transfer provider is scrambling to boost its online presence in the face of increasing competition from upstarts that don't have the legacy costs of traditional agent-based providers such as Western Union, which has 550,000 agent locations in 200 countries and territories. Consumers can use Western Union to make online bill payments in the U.S., and to transfer money online to individuals in 37 countries. In 2016's fourth quarter, Westernunion.com consumer-to-consumer revenues increased 27% from a year earlier, or 30% on a constant-currency basis, on transaction growth of 28%. Westernunion.com accounted for 9% of total C2C revenue in the quarter.
Xoom
Parent  PayPal Holdings Inc.
Headquarters  San Jose, Calif.
Year Founded  2001
Web Site  xoom.com
Pricing  Varies, $4.99 for $500 transfer to Mexico funded with a bank account, $12.99 if funded with a credit or debit card. $2.99 for payments to nine billers in Mexico.
Field Notes PayPal gained 1.5 million active U.S. customers in late 2015 when it bought online wire-transfer provider Xoom Corp. for $1.06 billion. While consumer money transfers remain Xoom's core business, Xoom also provides bill payments and is an important component of PayPal chief executive Dan Schulman's plan to make PayPal a leading provider of services for the underbanked.
Zelle
Parent  Early Warning Services LLC
Headquarters  Scottsdale, Ariz.
Year Founded  2011
Web Site  zellepay.com
Field Notes Zelle is the new name for clearXchange, the real-time payments system owned by Early Warning. The service adopted the new name in 2016 in hopes it would connote speed, agility, and elegance, a spokesperson said. As Zelle, which is supposed to debut in the first half of 2017, prepares to launch, at least one bank partner, JPMorgan Chase & Co., forecasts big expectations. During an investor day presentation, Chase disclosed that its QuickPay app processed $28 billion in 2016, up 38% from 2015. QuickPay is the bank's P2P service. With Zelle, which so far has 20 U.S. partners, the potential is larger. These banks have 75 million mobile-banking customers, Zelle said. In comparison, Venmo, the popular P2P service from PayPal Holdings Inc. posted $17.6 billion in total processing volume in 2016. Zelle also set up partnerships with processors Fiserv Inc., Jack Henry & Associates Inc., Fidelity National Information Services Inc. (FIS), and Co-Op Financial Services. And through agreements with Visa Inc. and Mastercard Inc., Early Warning will leverage the Visa Direct and Mastercard Send platforms so that U.S. debit card holders can send and receive money through Zelle.