Visa Inc.'s top brass talked at length Thursday about payments opportunities abroad, but they also noted that U.S. payment volumes, particularly in credit cards, did quite well in the quarter ending June 30.
"Our global business benefited from an overall healthy economy as payments volume grew in every major region," said Visa chief executive Alfred F. Kelly Jr. on a conference call with analysts to review results for fiscal 2017's third quarter.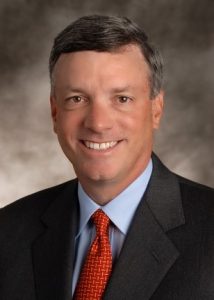 In the U.S., Visa's largest region, credit card payment volume jumped 18.8% to $446 billion from $376 billion a year earlier, in part because of the addition of the Visa-branded Costco Wholesale Corp. credit card issued by Citigroup Inc. that hit the market just over a year ago. American Express Co. formerly issued the Costco cobrand. Also contributing to Visa's credit volume were new cards from USAA, formerly a big Mastercard issuer.
U.S. debit payments volume rose 5.3% to $393 billion on 10.4 billion transactions. Combined, U.S. credit and debit card payments hit $840 billion, up 12.1% from $749 billion in fiscal 2016's third quarter.
Total payment volume increased 18.9% in Visa's Central Europe-Middle East-Africa region and 13.3% in Latin America and the Caribbean. Volumes in Asia-Pacific and Canada rose in the single digits. Including Visa Europe, which Visa Inc. acquired in June 2016, Visa posted global payment volume of $1.86 trillion in the quarter.
Worldwide, transactions on Visa's network totaled 28.5 billion, up 43.8%. Excluding Visa Europe to make June 2017 and June 2016 quarterly results comparable, the transaction count was up 13%.
All of those revenue-generating transactions as well as its processing and digital services for financial institutions and merchants produced a tidy profit for Visa in the third quarter that exceeded analysts' expectation. The San Francisco-based company reported net income of $2.06 billion, a quintupling of the $412 profit Visa reported a year ago when earnings were reduced by a $1.88 billion one-time expense for the Visa Europe acquisition. Net operating revenues increased nearly 26% to $4.57 billion.
Visa spent $1.15 billion on incentives for card issuers and merchants in the third quarter, up almost 37% from $839 million a year earlier.
Kelly disclosed that Visa has submitted its formal application with China's central bank to provide payment services in a huge market that the Chinese government has largely protected from foreign payments competition. "Yesterday we filed an application with People's Bank of China in order to participate in China's domestic market as a bank card clearing institution," he said.
Kelly added that "China is one of the world's fastest growing payments markets" and that Visa's commitment to the Chinese market "is long-term … we expect that the PBOC will consider our application in line with the publicly-released measures and guidelines for [clearing institution] applicants."
In Europe, Visa is moving authorization and settlement services for Visa Europe's financial institutions and merchants over to the Visa Inc. system. "The integration of our European business is progressing well and is on-track," Kelly said.