The Apple Pay mobile-payments service got only a few brief mentions in a nearly two-hour presentation Tuesday afternoon in which Apple Inc. executives introduced the latest versions of their 10-year-old iPhone and other new products. But what they did say could change payment security because the new iPhone X will use facial biometrics for buyer authentication.
What Apple calls Face ID will be a standard feature in the pricey new iPhone X models that start at $999 and will be available for pre-orders Oct. 27 and ship Nov. 3. As predicted, the phones lack a home button, but with Face ID will activate when the owner merely looks at the device for a second or two. The technology will work even if the user is in a darkened room, changes hair styles, dons a hat, puts on glasses, or grows a beard, according to Apple.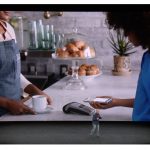 Face ID is integrated with the iPhone X's near-field communication technology that enables the device to communicate with NFC-enabled point-of-sale terminals so users can pay with Apple Pay.
"To pay for things, you just double-tap the button on the side, you look at iPhone X to authenticate, and hold it near the payment terminal to pay," Phil W. Schiller, senior vice president of worldwide marketing, said during the presentation.
The other two models Apple introduced—the iPhone 8 and larger iPhone 8 Plus, rely on Apple's existing Touch ID fingerprint biometric technology for phone usage and Apple Pay authentication via the home button.
Face ID converts the iPhone X user's facial image into data that are stored on the phone, not on a server, Schiller said. That means hackers won't be able to steal masses of consumer-identifying information at once. The technology itself also is more secure than fingerprint IDs, according to Apple. Schiller said Face ID uses neural-network technology to absorb new information and presents a one in 1 million chance that a random person other than the legitimate user could unlock the phone, compared with a one in 50,000 chance with Touch ID.
Most payment-linked biometric systems so far have relied on fingerprint authentication, which is easy for consumers to enroll in and use. Payments experts already are debating the future effects of Apple's placement of facial biometrics at center stage.
"The addition of facial recognition to iPhone X will propel biometric authentication and eclipse fingerprint recognition," Richard K. Crone, principal of Crone Consulting LLC in San Carlos, Calif., says by email. "In three to five years … facial recognition will account for more than half of all mobile logins, account validations, and authorizations for mobile financial services and mobile payments."
Crone predicts facial recognition will grab market share as more players find new uses for the technology beyond just security. He notes that the platform that includes the iPhone X's camera supports not just Face ID, but also Apple's new animated emojis. Personalized emojis could enhance social-payment systems such as PayPal Holdings Inc.'s Venmo, according to Crone.
But researcher Rick Oglesby, president of Mesa, Ariz.-based AZ Payments Group, says his initial impression of Face ID is that it might not be as user-friendly at the point of sale as the fingerprint technology.
"Face ID looks like a downgrade to the user experience for NFC payments vs. Touch ID, but it could be an upgrade for online or in-app payments," Oglesby says in an email to Digital Transactions News. "That shows that Apple is willing to trade off its in-store payment experience for its online experience, and is a good reflection of where Apple's priorities truly lie, which is closer to eliminating [payment] cards than it is to emulating them."
Oglesby, however, also notes that "the iPhone X could normalize facial recognition as an authentication solution, which would be huge for banks and e-commerce players. If the camera becomes an authentication device, then authentication is more open to third parties compared to Touch ID, which is locked down to Apple only."
Schiller said Face ID will work with such third-party financial-services apps as Mint and eTrade, as well as the 1Password service for single-click logins.