USA Technologies Inc., a provider of payment services for vending machines and other unattended merchant locations, said Tuesday the number of connections in its ePort network grew 32% year-over-year to 568,000 as of June 30, and transaction volume nearly as much.
The Malvern, Pa.-based firm also reported net income of $243,000 for its fourth quarter of fiscal 2017 versus a loss of $872,000 year earlier, on revenues of $34.3 million, up 56% from the prior year quarter's $21.9 million. For the full fiscal year, the company posted a net loss of $1.85 million, down from fiscal 2016's net loss of $6.81 million, on revenues of $104.1 million, an increase of 34% from the prior year's $77.4 million.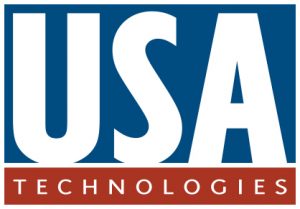 "We are executing well in an accelerating market and have exceeded our long-term goals of attaining $100 million in annual revenue and 500,000 connections this fiscal year," Stephen P. Herbert, USAT's chairman and chief executive, said in a statement.
USAT has been working to expand its network in order to generate transaction revenue as well as hardware revenue from sales and rentals of its contactless card readers. The number of connections stood at 429,000 at the end of fiscal 2016.
USAT added 300 new customers in the fourth quarter and now claims 12,700, including vending machine deployers, bottlers, coin laundries, and other unattended merchants, up 15% from 11,050 a year ago. The company recently announced a five-year agreement with Five Star Food Service to deploy nearly 9,000 devices on its ePort Connectservice.
The company will be stepping on the gas in the new fiscal 2018. USAT said it expects to add 170,000 to 175,000 net new connections to the network, bringing total connections to as many as 743,000—an increase of about 30%.
During fiscal 2017, the network processed 414.9 million transactions, up 31% from 315.8 the prior year. Network dollar volume grew 37% to $803 million versus fiscal 2016's $584.4 million.
Fourth-quarter equivalents were 114.8 million transactions, up 29% from 89.3 million a year earlier, and dollar volume of $225.6 million, an increase of 33% from $169 million.
USAT also said approximately 475,000 of its network connections support near-field communication contactless technology. That number is "believed by USAT to be the largest footprint of its type controlled by a single entity in the United States, if not the world," a spokesperson tells Digital Transactions News by email.
To support its growth initiatives, USAT recently raised $43.1 million in gross proceeds through a secondary stock offering.