The political coroner has made an official pronouncement: Operation Choke Point is dead.
The controversial program begun in 2013 by the U.S. Department of Justice during the administration of President Barack Obama aimed to deny payment services to fraudulent telemarketers, payday lenders, and other suspect merchants. It generated massive controversy for a while for allegedly cutting off legal but disfavored industries from electronic payments, but lately has been inactive.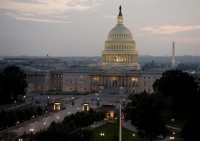 Still, some observers wondered if Operation Choke Point remained federal policy. The answer to that question came this week in the form of a letter from Assistant Attorney General Stephen E. Boyd to U.S. Rep. Bob Goodlatte, R-Va., chairman of the House Judiciary Committee. Boyd was responding to a letter Goodlatte had sent to Attorney General Jeff Sessions.
In his letter, Boyd calls Operation Choke Point a "misguided initiative conducted during the previous administration. We share your view that law-abiding businesses should not be targeted simply for operating in an industry that a particular administration might disfavor."
The letter notes that a set of subpoenas were issued under the auspices of Operation Choke Point in 2013. Some of them included a document from the Federal Deposit Insurance Corp. containing guidance for banks, with a footnote listing certain "elevated-risk" merchants. Among those named were short-term lenders and firearms dealers. The FDIC later rescinded that list—a move with which the DoJ agrees, Boyd said.
"All of the Department's bank investigations conducted as part of Operation Choke Point are now over, the initiative is no longer in effect, and it will not be undertaken again," Boyd wrote.
Some responses to the subpoenas did lead to the discovery of criminal activity involving "certain individuals and non-bank entities," Boyd added. "To the extent the Department continues to pursue those ancillary investigations, none relates to or seeks to deter lawful conduct," the letter says.
Boyd's letter was first reported by Politico, the Arlington, Va.-based news service that reports on national politics, which said the progressive activist group Allied Progress had obtained it. The DoJ confirmed the letter's authenticity to Politico.
The Electronic Transactions Association, the Washington, D.C.-based national payments-industry trade group that has frequently criticized Operation Choke Point, hailed the DoJ's move.
"We applaud the end of an ill-conceived approach to fighting fraud," the ETA said in a statement to Digital Transactions News. "By focusing on financial institutions and not the actual bad actors, Operation Choke Point served only to stifle good actors working to serve their customers."
Allied Progress, however, said in a blog post that Operation Choke Point "has been incredibly effective" in disrupting the flow of money to fraudulent merchants. The group described the program's demise as "a massive giveaway to predatory payday lenders and other shady financial scam-artists" by the administration of President Donald J. Trump.
In the face of strident opposition from the payments industry, merchant groups, and Republicans in Congress however, Operation Choke Point had been inactive long before Trump took office in January. But merchant-acquiring consultant Deana Rich of Los Angeles-based Rich Consulting says federal regulators will still be on the watch for processors and banks that don't do enough due diligence on the merchants they sign for payment services.
The Federal Trade Commission, Rich notes, has authority under the Telemarketing Sales Rule to take action against business partners of telemarketers that defraud consumers if those partners ignore or completely miss signs of illegal activity. "While Operation Choke Point may be officially dead, I do believe the regulators will pay attention to the 'known' or 'should have known' portion" of the Telemarketing Sales Rule, she says.