The decision to strip repeal of the Durbin Amendment from a Dodd-Frank overhaul bill puts a brake on the movement to get rid of the amendment's debit card rules, but that may not necessarily be the end of the matter. Leading advocates for repeal vow to keep fighting, while a veteran observer says a standalone repeal bill might stand a chance if advocates are willing to fight for it.
Meanwhile, merchant groups that had lobbied hard against repeal appeared as early as Wednesday night to anticipate the possibility that the repeal effort might make a comeback. "Despite tonight's good news, we will continue to follow this bill to the end and ensure that repeal is not included in the final legislation," said Mallory Duncan, senior vice president and general counsel for the Washington, D.C.-based National Retail Federation, even as the NRF and other groups were congratulating Republicans in the House of Representatives for their decision to drop Durbin repeal from the Financial Choice Act.
In response, the Electronic Payments Coalition, a lobbying group for financial institutions and payment networks, appeared ready to back another campaign to scrub the Durbin Amendment from the books. "This is a bad policy, and we, the Electronic Payments Coalition, are committed to repealing it," Molly Wilkerson, executive director of the D.C.-based EPC, said Wednesday night, despite the decision by House Republican leaders. Asked for more details regarding the EPC's intentions, a spokesperson directed Digital Transactions News to the EPC's Wednesday statement, which included Wilkerson's vow.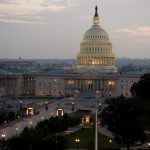 Any effort to revive Durbin repeal will be a dicey matter, payments observers say, not least because of the impassioned and implacable opposition of merchant groups. The NRF, for example, ran an anti-repeal advertising campaign in the weeks leading up to Wednesday's decision that was targeted at districts of pro-repeal Congressmen.
But at least one veteran payments observer argues a standalone bill might stand a somewhat better chance than any last-ditch effort to re-attach repeal to the Financial Choice Act, which is aimed at reforming the 2010 Dodd-Frank Act. The Durbin Amendment, which caps debit card interchange for large issuers and mandates all debit issuers must offer at least two unrelated networks, is part of Dodd-Frank.
"The legislative strategy is tough to handicap. Do you go with a bundled package or discrete bites which might attract a modicum of bipartisan support?" says Eric Grover, principal at Minden, Nev.-based payments consultancy Intrepid Ventures, in an email message. "If Republican leadership forced a freestanding vote on repeal of Durbin, likely they'd lose some Republicans but pick up offsetting Democrats."
However, in today's polarized political climate, such a strategy is far from a sure thing. And, as other legislative handicappers have pointed out, any new campaign to repeal Durbin could repel both Republican and Democratic Congressmen, most of whom want to stay away from having to choose between the opposed interests of two well-heeled constituencies in the business community, banks and merchants.
If any followup repeal effort fails, however, Grover has no doubt who will bear responsibility. Payments players have been far too timid in pushing for repeal, says Grover, who has argued against the amendment for years. "If Republicans [drop] Durbin repeal—and I hope it doesn't come to that—the payments industry will have only itself to blame," he notes. "The payments industry should, like merchants, be playing to win, not not to lose."