Prepaid specialist Green Dot Corp. released more details about its role in Apple Inc.'s upcoming person-to-person service in its Messages app.
 Apple announced the new feature in June and is expected to make it available this fall with an update to its iOS software for iPhone and iPads. Pasadena, Calif.-based Green Dot is to be the program manager for a virtual prepaid card called the Apple Pay cash card.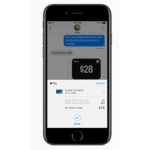 During a conference call Tuesday to discuss Green Dot's second-quarter results, Steven W. Streit, president and chief executive, shared more details about its role in the service.
Green Dot will be the merchant of record that accepts credit and debit cards using Apple Pay to fund person-to-person money-sending transactions, Streit said, according to a SeekingAlpha.com transcript of the call.
"Then when users receive money in Apple Pay cash, their money is securely kept in a Green Dot bank-issued Apple Pay cash account that is then available for the recipient to spend with Apple Pay in stores, in apps, and on the Web, or they can send it to someone else, or transfer to their bank account," Streit said.
Green Dot will generate interchange revenue when consumers use Apple Pay cash to spend funds in their accounts, he said. "On the expense side, we'll have the merchant-processing expenses to accept the Apple Pay [transactions]."
Green Dot also will have typical program-management expenses it generally incurs on any of its private-label programs, he said.
"In any event, we do not expect the program to have a material impact on our financial performance for the remainder of this year." Streit said he would not release any more details about the program.
Green Dot posted positive results for the second quarter. Its net income of $19.3 million was a 141.3% increase from $8 million last year. That's on revenues of $222.5 million, a 28.2% increase from $173.5 million a year ago. Green Dot said it had 5.15 million active cards at the end of the quarter, a 20.3% increase from 4.28 million.