With online sales soaring, physical retailers are faced with the challenge of how to recreate the convenience of e-commerce in a traditional store. On Tuesday, a 4-year-old startup called Five Elements Robotics unveiled a device that promises to help with that challenge by putting robots at the service of consumers.
Once in a store, customers can send their shopping list from their smart phone to the company's self-propelled Dash Robotic Shopping Cart, which will then pinpoint each item in the store and guide the customer through the aisles. A virtual-reality display shows where each item is as the customer walks down the aisle. The customer can then scan and pay for the product at the cart.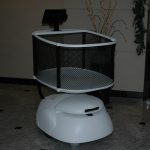 Once loaded with goods, the cart then follows the customer out to the parking lot, returning empty to its docking station back in the store once the customer drives off.
The company says it has been testing commercially available payment terminals and would like to settle on devices that support EMV and near-field communication as well as mag-stripe transactions. It has narrowed its selection to two devices, one from MagTek Inc. and one from VeriFone Systems Inc., though ultimately client merchants will be able to integrate terminals of their own choosing, the company says.
Wendy Roberts, chief executive and founder of Five Elements Robotics, tells Digital Transactions News her Wall, N.J.-based company will have a prototype of the cart at the Consumer Electronics Show next month in Las Vegas, and expects to begin manufacturing the device in the first quarter of 2017. Anywhere from 1,000 to 2,500 will be built in the first year, she estimates, though she won't talk about the cart's price other than to say it will vary "dramatically" with volume.
While Bloomberg News reported in June that Five Elements was developing the shopping cart in collaboration with Wal-Mart Stores Inc., Roberts refuses to confirm any clients for the product. A Wal-Mart spokesperson said the retailer had no comment on the matter. "There's a lot of different tests we have going on at any given time," he said.
The new shopping cart follows another self-propelled robot called Budgee that Five Elements developed two years ago as a cart that can follow people around to carry things, including items in stores.